How to use technology to your advantage this holiday season
The Holiday season this year is quite different from what we are all used to! Home Alone during Christmas is not a fictional story anymore, but a reality for many of us, while we stay isolated at our homes during the Covid-19 Pandemic.
But, the Christmas Holidays remain our favourite time of the year! With or without the Corona virus, we want to make the best out of it!
Calling home for Christmas
The ideal Christmas is often seen as a moment where family and loved ones have gathered to enjoy the holidays together. However, experience dictates this can be difficult to organise, because the people you enjoy being with most may be working abroad, studying across the country or joining their partners' family for celebrations.
The invention of telephony has already brought a big improvement to those moments where we are apart from each other. In particular, now that we have mobile phones, we can hear someone else's voice and personally wish them a Merry Christmas, even if they are somewhere far, far away. But isn't it better if you can see them smile? Video calling would not have been possible without all kinds of digital improvements. Connection quality has gotten better, and there's enough bandwidth to send a quality video that doesn't stutter. Most importantly, cameras in our phones have gotten so much better lately that it allows us to have a video conversation basically everywhere.
To top it off, even if your friends are spread all across the globe, you can now have group video calling straight from your phone with Facetime or Skype. If that isn't a great tool to bring people closer together, we don't know what is.
Putting down the phone
We heartily agree that there's a downside to being reachable everywhere and all the time. For those cases, we recommend using your phone's Do Not Disturb (DND) function, so that you are not bothered by things that can wait until after the holidays. This doesn't just apply to Christmas but for any moment you really want some time away from it all. You can put family, friends and other important contacts on your favourites list so you will still be notified when they are calling. One of the numbers our crew got in there is the office number in case of emergencies.
DND doesn't apply to just calling. You can also adjust if and when apps are notifying you, which can make a big difference. With fewer notifications, less effort is needed to focus on what's important, whether it's Christmas dinner, or the holiday budget spreadsheet. Muting notifications for some chat groups alone can create an oasis of peace for yourself.
There are guides to help you set up Do Not Disturb for iOS or Android.
For email, you may want to set an out-of-office reply so that people who are contacting you know that they shouldn't expect a reply straight away. To help create a good automatic response, have a look at the Out of Office Generator.
Getting everyone together
December is a busy month for everybody. Particularly the second part of the month seems popular for planning get-togethers and activities ;-) This means that finding the best date to get people together can be quite a frustrating challenge. To make sure organising activities doesn't mess with your holiday mood, we suggest using Datumprikker. This site (and app) allows you to input a range of dates and then invite all (possible) participants to indicate which dates they are available or not. Due to the ease of use, stress levels are kept down for both organizers as well as participants.
Those pesky Christmas cards
Another thing that usually takes a bit of planning, are Christmas cards. Buying them, writing them, getting the addresses on there, and then posting them in time so they arrive just before Christmas day if you didn't forget to buy stamps. It can be quite a hassle.
Instead of having to go through those time-consuming steps, why not consider sending digital cards this time around? We'll admit it's hard to beat the romance of a paper card, but digital cards can be very personal if you're sending them with a personal message, use photo's of your family or include a voice message. In the meantime, it might save you some time to spend on other things, such as a get-together.
Lifewire has you covered with an article on The 8 Best Digital Christmas Card Sites of 2020.
Making a playlist and checking it twice
Nothing gets you into the Christmas mood better than decorating the Christmas tree, and listening to Christmas songs. With the help of music streaming services, music is more easily accessible than ever and you don't have to play the same CD over and over again. Simply ask Siri, Google Assistant or Alexa to play Christmas music and off you go.
If you would like to play just Mariah Carey and Wham on repeat, a Christmas playlist is easily made and shared with anyone else that shares your taste. For paid subscriptions, there's usually the possibility for collaborating on a playlist, for those moments where the parents-in-law are over for Christmas dinner and the grunt version of All I Want For Christmas starts playing.
Santa's assistants
Voice assistants on your phone or smart speaker can do a lot more for your holiday season than just play music. Every voice assistant has its own special Santa features. For example, you can ask Google Assistant to call Santa, who will then ask you for some inspiration on a new song he's composing. Alexa is even able to track Father Christmas across the globe while delivering presents on Christmas Night if you install the NORAD Tracks Santa skill. The general rule is of course that Santa will only visit you when you're sound asleep, so, unfortunately, it cannot give you an exact arrival time. We've submitted a feature request.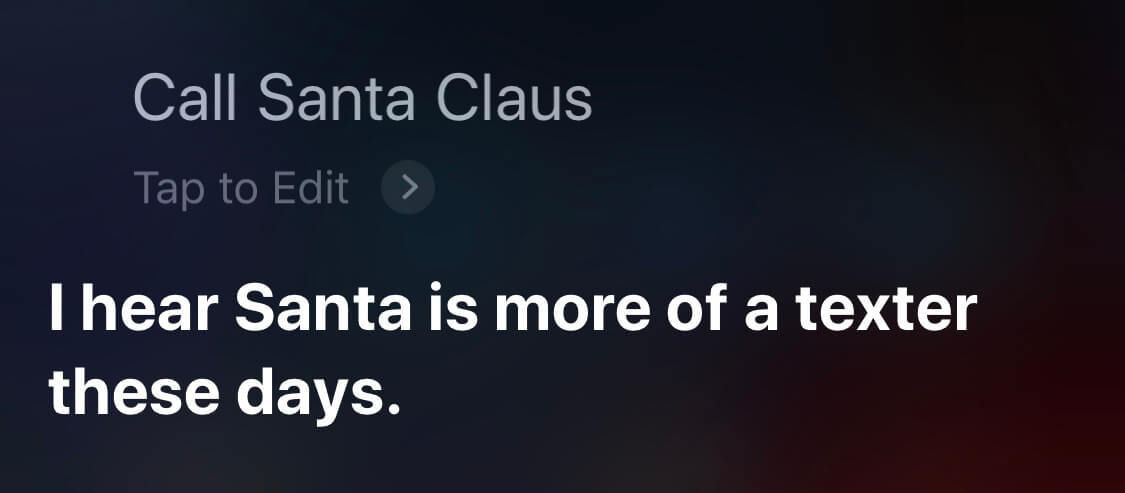 Let's not forget that voice assistants can also help you with some Holiday-themed productivity, from as simple as keeping a Christmas to-do list, to ordering groceries online to have them delivered to your door.
Happy Digital Holidays!
We hope to have inspired you to use everything at your disposal to make the holidays amazing for you and your loved ones, also if it requires using the internet, phones or other gadgets. Digital is not cold and distant. It offers new opportunities for improving communication and productivity, which we hope you will embrace not just this time of the year, but all year round.
If any of our suggestions has helped you save some time, or brought you a smile, then please share this article to inspire others.
Happy holidays from all of us at Talksome! 🎄🎅
Subscribe to Talksome blog
Get the latest posts delivered right to your inbox