Quickly building an interactive pitch for the Fast Forward Challenge
We were about to leave for our annual work trip when we heard we were selected to pitch for the Fast Forward Challenge in The Hague, with a chance to win tickets to the Web Summit in Lisbon! The Web Summit seemed like a great place to bring our vision to a larger audience. But there was a catch.
How to move forward?
The news of our selection for the challenge came on Thursday afternoon. We were excited! But we were also aware that the actual competition with other selected start-ups was not our only challenge. In a few days we would fly to Croatia for a one-week work trip. That meant we would be 1.450 KM away from The Hague on pitch day, not able to present and do the Q&A on stage.
On top of that, we had some very important tasks planned and didn't want to take away our focus from the goals we had set for our work trip. How would we solve this?
Luckily, all the components we needed for a great pitch were present, even if we were not. It was a great opportunity to show that communication can be without obstacles.
Creating the interactive pitch
One of the strong points of Compass is the PBX API. Our partners happily make use of our API to build applications that are a perfect fit for the very specific market that they serve. But if you pitch about a telephony platform, it runs the risk of sounding very traditional and even boring. We thought we could make an impression by showing how phone communication can be modern and innovative. But how?
We've all used telephony. We've all used interactive web apps. But most of us have never seen them together, successfully combined. In most cases, we are on just one end of the experience, which makes it difficult to see the possibilities. Showing both sides would make the possibilities more clear.
We came up with the idea of having the jury and invitees call a phone number to hear our pitch on the phone, while we show off our API capabilities and real-time call data live on screen. This would put callers in a position to experience what a connection between a (traditional) phone and a modern application could look like. We had hoped it would make for a more memorable experience than other (traditional) pitches.
After hearing our pitch, the jury would be able to ask us questions by using one of the conference boxes on our platform.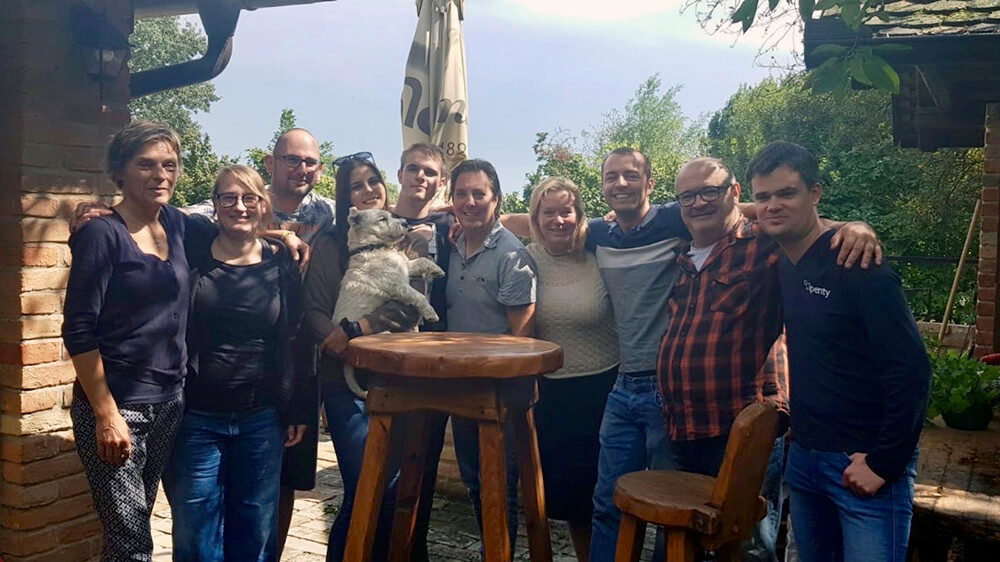 And we're off!
We went to work on making the pitch web app before our flight and got to a working example very quickly. It still needed some tweaking and styling but it was interactive and working. We were able to build a web page interacting with a phone system in just a couple of hours, all thanks to our Compass APIs.
With the interactive part in good shape, we went ahead and worked on writing and tuning the pitch text. All start-ups were given 2 minutes of pitch time, but in our case participants would need some of that time for calling the number and the interactions. Saying many important things in under 1.5 minutes was a(nother) challenge! After finishing the text we asked a native English speaker to record it for us.
Meanwhile, one of our team members who couldn't join us in Croatia prepared a short introduction of our pitch presentation and a conference speaker for the Q&A.
How would you rate our pitch?
Our pitch received some great responses during the Fast Forward Challenge, but the jury selected other start-ups for the tickets to the Web Summit. The Challenge was a very valuable experience for us and we will use all the feedback we got to improve our pitching game!
At the same time we think our presentation is a great way to see the possibilities. That's why we've decided to make our pitch available for you to experience as well! Visit the pitch page below and call the number 🙂 Be sure to rate our pitch at the end!
https://ff.iperity.com
Subscribe to Talksome blog
Get the latest posts delivered right to your inbox